The section News and Events shows the most of the actions that have taken place within the management system and allows you to communicate quickly to Teachers, Students e Tutors various communications.
Note: Currently News and Events can only be accessed from the Web.
A preview of the section can be seen directly in the DashBoard of the system: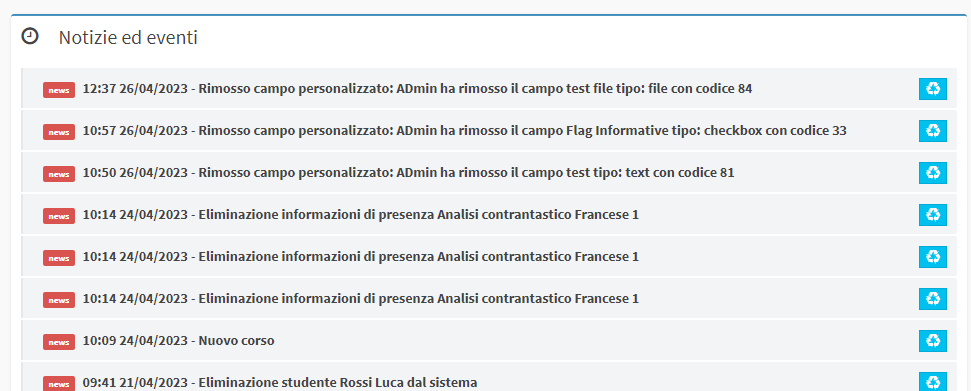 With the blue button with the logo of recycling you can archive the news so that it is no longer no longer visible in the DashBoard of stakeholders, this will still remain visible in the News and Events.
To access the full view hover your mouse over your name in the upper right-hand corner and click on News and Events: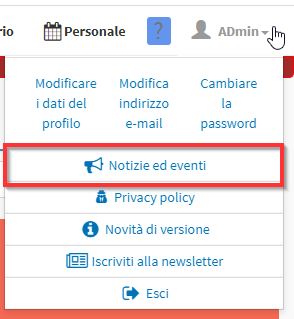 This screen will encapsulate all the activities carried out in the system:

The columns will be:
News Title: The News Headline
Content News: The content of the message
Date: The date of the news release
For: Message recipients
Operations:

Edit: Allows all of the above parameters to be edited.
Delete: Permanently delete a news item
Secretariat activities carried out by administrators will be visible only to other administrators and to no other registry in the System.
Adding a News Item
ScuolaSemplice gives administrators the opportunity to insert News that will be visible to other Administrators, to Teachers , Students o Tutors.
To do so from the News and Events click on the green button Add News: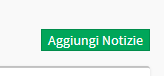 From the page that opens enter the following information:

News Title: The News Title visible from the DashBoard
News Content: Content of the News message
For: Indicate to whom the communication is addressed (All, Teachers, Students or Tutors)
Date: The date the Notice was released (the Notice will be made visible immediately but with the date entered in this field)
When you have finished filling in, click on the green button Add News to make the communication visible.
The Notice will be visible to the Users indicated in their Management Dashboard in this section: