Exports

/

Exporting student master records
Per esportare le anagrafiche degli studenti navigare su Anagrafiche → Studenti, cliccare i 3 puntini in alto a destra dello schermo e di seguito scegliere l'opzione "Esportazione":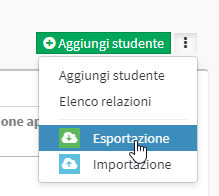 IMPORTANT: in case you do not intend to download all student records in the system, before proceeding to export, by clicking on

, it will be possible to use filters so that the system exports master records following specific criteria.
N.B. Il sistema mostrerà in alto a sinistra il totale degli studenti selezionati in base a filtri utilizzati:

To add new filters to the default ones, click the

, selezionare i filtri da aggiungere: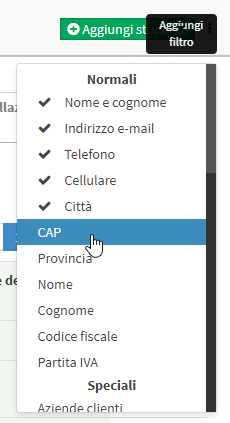 It will then be possible to add other filters than those present by default, namely:
Normals: fields that are present by default in student records.
Special: fields not belonging to the master records, related to the educational part (e.g. subject and teacher of the course taken, active students, etc etc)
Campi Personalizzati: campi custom creati autonomamente aggiunti alle anagrafiche degli studenti (clicca qui per leggere l'articolo relativo alla creazione dei campi custom)
Quindi dalla nuova finestra di esportazione, scegliere il tipo di file per l'export tra Excel, PDF e CSV, e di seguito scegliere tra: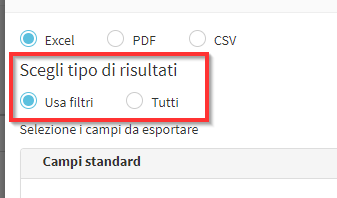 Use filters: export will be made according to the filters used
Tutti: spuntando questa opzione, il sistema ignorerà i filtri utilizzati ed esporterà tutte le anagrafiche presenti di seguito sarà possibile scegliere quali informazioni si intendono esportare per ciascun studente, valorizzando i corrispettivi checkbox dalle due sezioni sottostanti "Campi standard" e "Campi personalizzati" (clicca qui per l'articolo relativo alla creazione dei campi personalizzati).
Successivamente, espandendo le sezioni sottostanti  "Campi standard", "Campi Personalizzati", "Tutori / Responsabili" e "Azienda di riferimento", se necessario, sarà possibile esportare per ogni studente anche gli eventuali tutori/responsabili collegati e/o l'azienda di riferimento (in caso sia uno studente aziendale) ed eventuali Campi Personalizzati potendo anche in questo caso valorizzare i campi delle informazioni che si vogliono estrapolare dal sistema: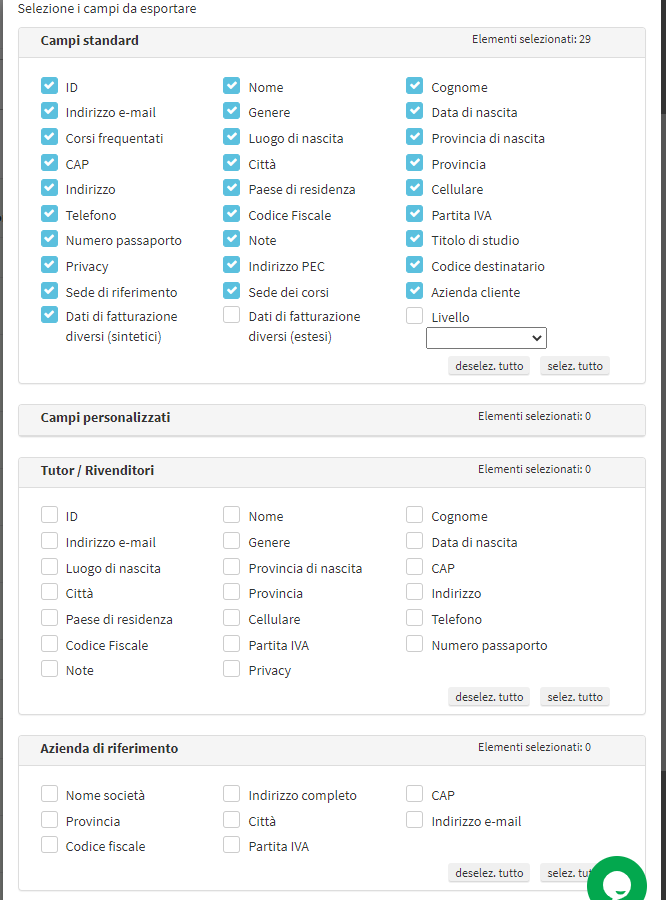 Ora per terminare l'operazione, nominare il file di esportazione (se non lo si vuole lasciare come di default) e cliccare il pulsante "Esportazione":