Changing the duration of an already planned regular course
It is possible to change the total duration of a regular course that has already been scheduled, the procedure changes depending on whether the Course has duration up to date or Hours/Lessons.
Change the duration of a Regular Course set to Date
To change the Duration of a Course set to the End of the Educational Year or Until is Date you must navigate to Didactics → Group Courses or to Didactics → Individual Lessons: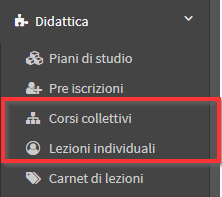 Then enter the Edit next to the course of interest via the appropriate button:

Then edit the end date of the Course on the appropriate Box:

E save the changes with the appropriate button at the end of the page:

It is now possible to make a rescheduling of classes as standard procedure by navigating to Class Schedule → Edit Weekly Schedule:

If it is not necessary to apply further changes to the lessons you can proceed directly to the Planning verification:

Having checked and resolved any conflicts, the manager will have calendared the lessons added. Confirm the operation with the button Apply Changes:

Changing the Duration of a Regular Course to Number of Hours or Lessons
In case the course includes a Predetermined number of hours or classes navigate to Didactics → Group courses or to Didactics → Individual Lessons: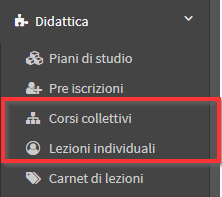 Locate the course of interest, click the icon Class Schedule on the line of the same: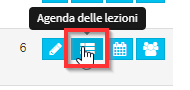 Then click the button Edit weekly schedule:

Enhance now the CheckBox "Change the characteristics of the lessons":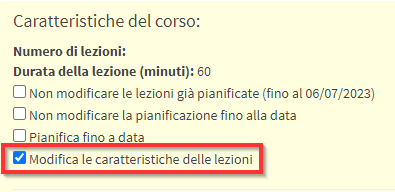 From the menu that opens, change the box regarding the number of Hours/Lessons planned for the Course:

After varying the total duration of the course (changing from 20 to 30 hours, for example), click the "Verify the schedule":

This allows the system to verify that there are no classroom and/or teacher conflicts for the classes we are adding.. If there are no conflicts, click the Go to approval to proceed with the change and see the calendar preview with the newly added classes. Finally, click the "Apply Changes" to finish the operation:

IMPORTANT: Changing the duration of a course will not impact the economic side, all amounts will remain unchanged. Therefore, in case you also need to change the cost of the course, for orders already issued, you will need to intervene directly on the individual enrollment order and change the amount (click here for the wiki article on modifying issued orders), while for future enrollments it will be enough to modify the cost directly from the course tab in case of collective and from the course type in case of individual.