Sending Invitation App for Students/Tutors Enrolled in a Course.
With a view to optimizing administrative timelines, an invitation to the App can be sent to all enrollees of a course.
Click here to read the guide on sending bulk invitations to the App to all registries in the system.
Navigate to Courses → Collective Courses e click on the name of the Course of interest, after that click the Tab Enrolled Students:

The Orange button will be visible at the top of the screen. Invite all students/tutors: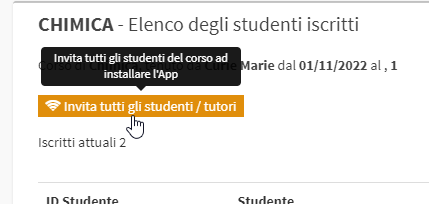 Clicking the button will start the invitation to all the Students enrolled in the Course and their Tutors.
Note: Invitations will be sent ONLY to registries to which invitations have never been sent.