Exports

/

Exporting students enrolled in a collective course
Navigate to the section Teaching → Collective Courses (or Teaching → Courses if the two sections have been merged) and click the name of the collective course to access its tab.

From the next page, scroll down slightly to the section "Students enrolled" and click the "Export".

After opening the export window, in order to extrapolate information about what has already been scheduled and carried out of the courses, it will be necessary to expand the "Teaching Values" and insert the ticks "Planned hours/lessons" e "Hours/lessons held".
What's more, in the event that you only want to extrapolate information over a certain time frame, the system allows you to filter by time period by entering the check "Enable filtering of educational values by period" and entering the start date and end date.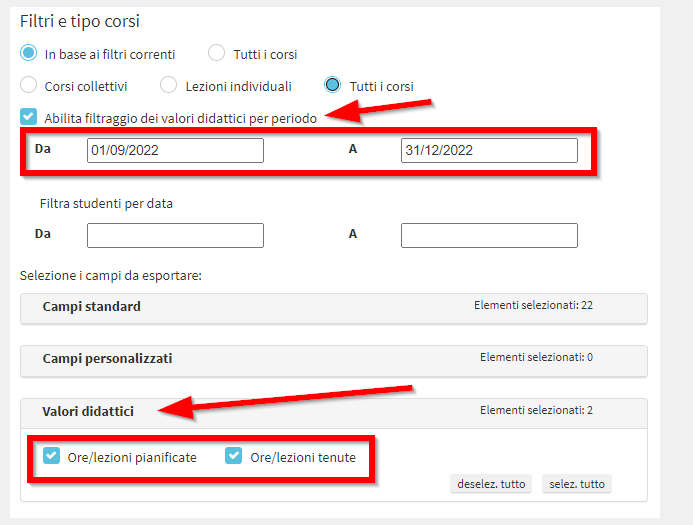 Instead, by expanding the section "Student Learning Values" it will be possible to extrapolate data on the lectures/hours delivered and performed for each enrolled student.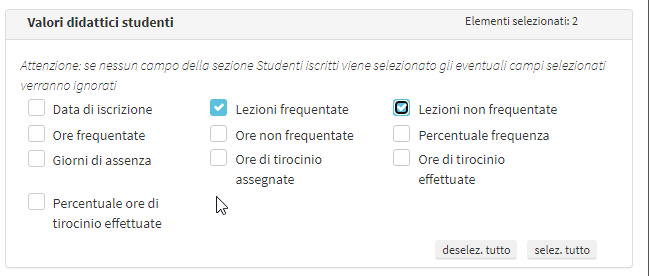 Click the button at the bottom of the window "Export" to conclude the operation.