Pre-enrolling a student in a course
Pre-enrolling a student for a group or individual course means that although a purchase order is still placed as for a standard enrollment (it is possible to place a deposit as a deposit at the order stage, which can then be handled later by Order Management; read below to learn more), the actual assignment of the student to the course will occur at a later time.
The student may be enrolled in a course that matches the type of offering chosen in the order phase.
IMPORTANT
Per poter procedere alle Preiscrizioni è necessario innanzitutto creare dei modelli di corso. Leggere la seguente guida per creare o modificare un modello.
Per effettuare la preiscrizione di un allievo navigare su Iscrizione studente dal menù principale, inserire il nome dello studente, cliccare il pulsante blu per scegliere dal menù a tendina "pre iscrizione":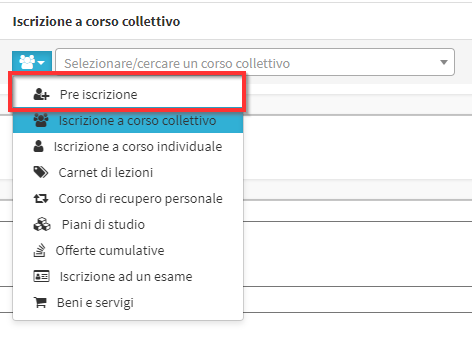 Quindi scegliere di seguito la tipologia di offerta per il corso collettivo od individuale (clicca qui per la guida specifica sulle tipologie dei corsi):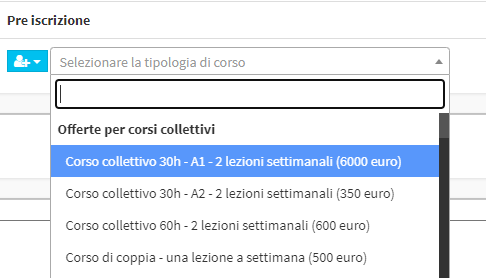 Then enter:
Materia: la materia oggetto del corso (in caso di preiscrizione ad un corso collettivo, la materia inserita in questa fase dovrà coincidere con la materia del corso nel quale verrà inserito lo studente)

Pre selezione corso: Indicare la voce "non preseleziona alcun corso" in caso il corso di destinazione non sia ancora stato creato. In caso si voglia già preselezionare un corso sceglierlo dal menu a tendina che si apre.

Eventuali preferenze/note dell'iscritto: inserire per esempio i giorni in cui lo studente sarebbe disponibile a frequentare il corso (queste eventuali preferenze espresse dallo studente saranno poi visibili sulla riga del preiscritto dall'elenco delle preiscrizioni da completare)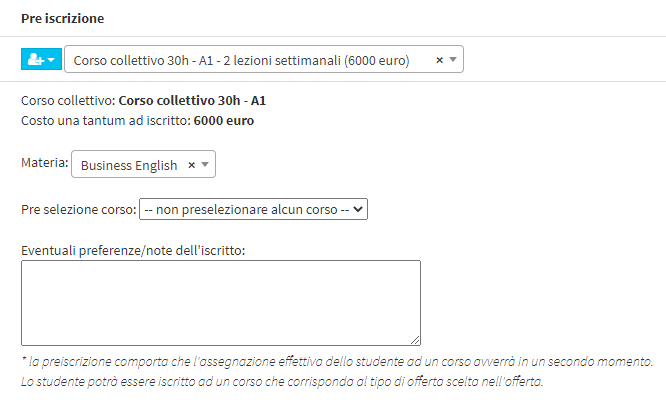 In fase d'ordine d'acquisto, nel caso in cui si voglia far lasciare al cliente solamente una cauzione per la preiscrizione, sarà possibile inserire un Deposito. Il deposito, a differenza dell'acconto, non verrà contabilizzato ma sarà possibile gestirlo successivamente dalla gestione degli ordini.
Inserire quindi le modalità di pagamento, con le eventuali rate e le date di scadenza, e terminare l'ordine d'acquisto nella stessa modalità che si utilizza per le iscrizioni standard.

Having completed the purchase order for pre-registration, to manage payments and then any deposit paid, navigate to Financial management → Order Management and click the icon "Manage installments and payments" on the pre-registration order line.


The system will enable:
pay using the deposit
pagare restituendo il deposito
pay without using the deposit
To register payment, flag the desired option and click the middle icon "Register Payment" (click here for guidance on registering payments).
Once the order is completed, navigate to Education → Pre-enrollment Management.

In case of individual, from the list of pre-registrations to be completed, click the "+" on the relevant row and finish creating the course with the missing data.

In caso di collettivo, per terminare la preiscrizione trasformandola in iscrizione al corso, sarà necessario aver creato il corso dalla stessa tipologia d'offerta acquistata dallo studente (quindi, da Didattica → Corsi collettivi, cliccare il tasto "Crea da modello" e scegliere la stessa tipologia che è stata venduta allo studente), e dovrà avere la stessa materia. Ora, dalla lista delle preiscrizioni da completare, cliccare l'icona "Preassegna ad un corso" sulla riga del preiscritto interessata: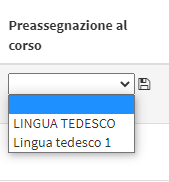 Dal menù a tendina, scegliere il corso nel quale inserire lo studente (nel menù saranno presenti tutti quei corsi collettivi che sono stati creati dalla stessa tipologia d'offerta che è stata acquistata per quella preiscizione e con lo stesso insegnamento) e cliccare l'icona "Associa provvisoriamente a questo corso":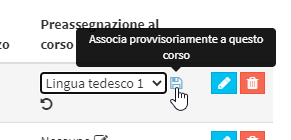 A questo punto, cliccare il pulsante verde Completare l'iscrizione: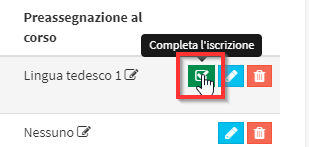 Terminata l'operazione, l'iscrizione andrà a finire nell'elenco sottostante nelle pre iscrizioni completate:

In caso si voglia ripristinare l'iscrizione è necessario cliccare il pulsante giallo Cancella iscrizione alla classe: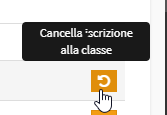 Lo studente tornerà in stato di preiscrizione con possibilità di scegliere un nuovo corso a cui iscriverlo.