Recording of payments received from students
There are two main ways Main way to record Received Payments.
1. Record the payment from Student Fees.
Navigate to Financial Management → Student fees: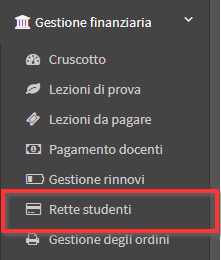 A list of payments due due or overdue of students (payments due or due in the next 3 days), sorted from the oldest to most recent.
Use the filter responsible student/guardian o by course (using the relevant search fields at the top):

This will allow More quickly identify the payment to be recorded, then click the icon

To record the payment:


From the screen that opens record the payment status as paid, insert date, method and any comments and finally click on Record payment:

Now the system will redirect to the Welded Payments section (again in Student Fees), from which you can directly issue an invoice.
Note: To be able to issue a single payment for multiple installments or multiple orders follow this guide.
2. Record the payment from Order Management
Navigate to Financial Management → Order Management: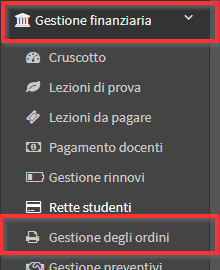 Use the search box provided to search for the student/guardian responsible or the order number:

Then click the center icon "Manage installments and payments" on the order line: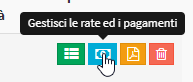 Now click the center icon "Register payment" on the installment line: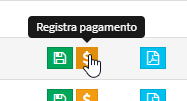 From the screen that opens record the payment status as paid, enter date, method and any comments and finally click on Record Payment: