Bulk Import of Client Companies
For guidance on creating a single Client Company read the following Guide.
In order to perform a bulk import of Client Companies, it is necessary to navigate to Master Data → Customer Companies and click on the Import company master records:

A sub-menu will open where you can download the blank template for filling in the data and reload it filled in. Then click on Download empty template: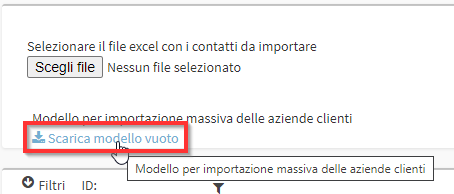 The Download will start immediately. The file template will look like this:

Note: Fields in blue are required to be filled in.
Company: The name of the Client Company.
Address: Leasing address.
Cap: Lease Cap.
City: City of lease.
Province: Leasing Province.
Status: State of residence.
Tax Code: Corporate Tax Code.
VAT number: VAT ID Code.
Email: Company Email Address.
Phone: Landline phone number.
Mobile: Mobile number.
VAT Rate Name: The name of the VAT rate found in Administration → Economic Settings → VAT Rates must be given identically.
Billing Company: Indicate identically the name of the School Company in which to associate the Company located in Tax Management → Tax Settings.
When you have finished compiling the file, return to the management screen and click on Choose File: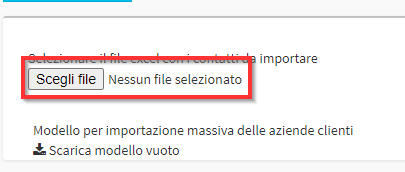 Once you have chosen the File click on the green button Verify the contents of the file: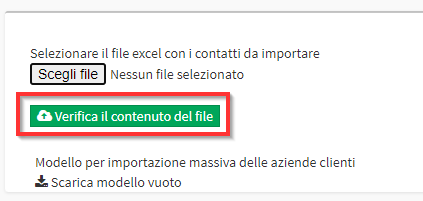 They will be displayed all the Companies found in the File: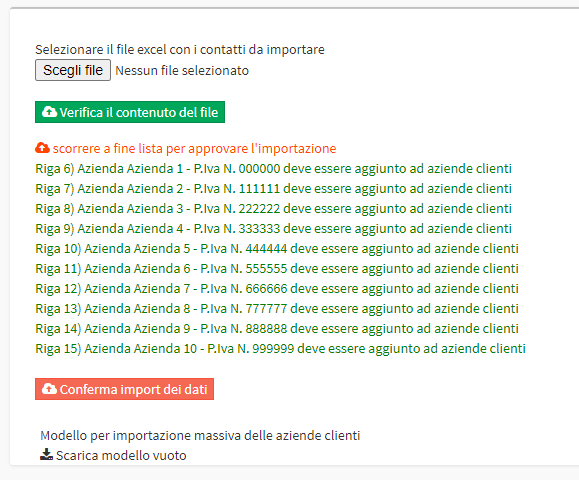 To conclude the operation click the red button Confirm data import:

When the procedure is complete, a confirmation message: