Organization of Subjects into Departments
Organize the Subjects into Departments can be very useful for more precise management of the Subjects. Each paragraph will explain the details of the two functions.
1. Organizing Subjects into Departments.
Departments group several Subjects together and help to filter and search quickly the Subjects of interest.
For create a Department navigate to Master Data → Subjects and click on the icon Menu → Manage Departments: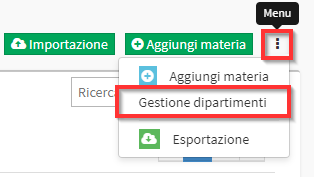 The screen that opens will show the Departments that already exist. Then click on the button Add New Department:

The required information will be as follows:

Department Name: The Name of the Department to be created.
Description: Department Description.
When you have finished filling in, click on the button Add new department:

2. Linking a Subject to the Department
To link a Subject to a Department navigate to Master Data → Subjects and click on Edit in the Subject of interest: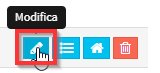 From the screen that opens indicate in the Department box the item to be linked:

Save the changes with the Save present in the upper right corner: