Installment configuration
To add new installment models navigate to Configuration → Settings and expand the section on Installments: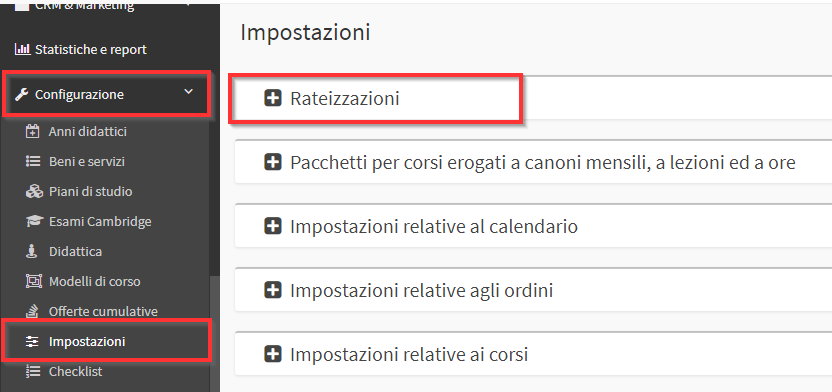 From the screen that opens will be visible all the installments already usable and the ability to enable the Expected Payment Method:

Then in the last line enter the following information:
Installment Name: The name of the installment that will appear once the installment plan is created.

Number of installments: The number of installments to be paid.

Percentage Recharge: Possible percentage recharge on the order total.
Expected method of payment:
Frequency of payment: Indicate the frequency of payment cadence.
Click the + button to add the new installment:

Scrolling down the page will allow you to set the default configuration for the first installment due date:

Select a day: Indicate the departure day of the first installment.

Current day: Takes the current day at enrollment.
Specific day of the month: Indicate the specific day of the month from which to start the installment.

Select month: 

Current month if available: If a specific day of the month is selected the installment will start in the current month if not available it will slip to the next month.
Next: Installment starts directly the month after enrollment.

Minimum amount of installment scaled down: Minimum amount of one installment in case of late enrollment with partial tuition.
Click Apply changes to save the operation:

The accrual just created will appear along with the others when enrolling a Student from the relevant section Accrual: