Web access as User or Teacher (from secretary's office)
→  Download this guide in PDF format

In case it is necessary for the Secretariat to verify a Student's account or check that everything is working from their screen, they can log in through their Account.
To log in navigate to Master Data → Students at this point click on the user's name and click in the upper right-hand corner on "Log in as user."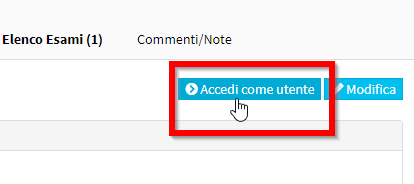 Note: It is only possible to log in to a Web Account if email has been configured within the registry and web access is active, otherwise the Log in as user button will not appear. Click here to read the guide on Web Account activation.
Once we click the button we will find ourselves inside the chosen student's account, at which point we can navigate to his or her screen and check out the functions available to him or her.
Once the verification is complete you can return to your Account by clicking on the button in the left menu Return Administrator: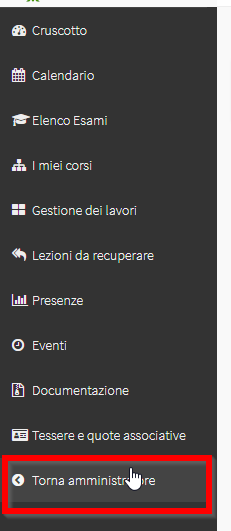 The same procedure can be replicated for Teacher accounts in Master Data → Teachers.