Add a simple movement in Income/Expense
You can add a simple movement unrelated to an Order, Teacher, Supplier, or Administrator by navigating to Tax Management → Income/Expenditures then select the Company on which to add a movement:
The following will be uploaded all the income/expenses of the management system with the possibility of export the First Note. Click on the orange downward-pointing arrow next to the Invoices / Credit Notes, from the menu that opens click Add Simple Movement: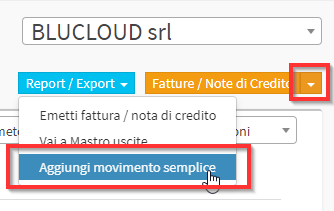 The screen for adding the movement. Fill in the required data:

Date: The date the movement was accounted for.
Total amount: Movement value in Euros.
Debit/Credit: Check if this is a Debit or Credit.
Account name: Enter the Name of the account for the movement.
Method: Method by which the amount was paid.
Description: Movement description.
When you have finished filling in the fields click on the green button Add movement:

The line will immediately be added in the Income / Expenses with the possibility of deletion o modification of the data entered:

In the case of outgoing transactions with an attached Invoice, it is possible to enter payments from the Outgoing Master via this guide.