Lesson Planning for a Teacher Account Carnet
Teacher Configuration
In order to plan lessons for a Carnet, the Teacher must be enabled. Navigate to Configuration → Settings → Settings related to Teachers and under the Lesson Carnet tick off the item. "Allow management and scheduling of carnet lessons."

In case you want to give permission to choose the lecture hall as well, you must also enable the check mark "Allow teachers to manually choose the classroom when scheduling new classes."

Lesson Planning
Now the Lecturer has two ways to schedule new classes:
From his Calendar the Teacher can make double-click in an empty space or left-click and drag to create a new lesson. A pop-up will open that will allow the creation of a new lesson from Carnet: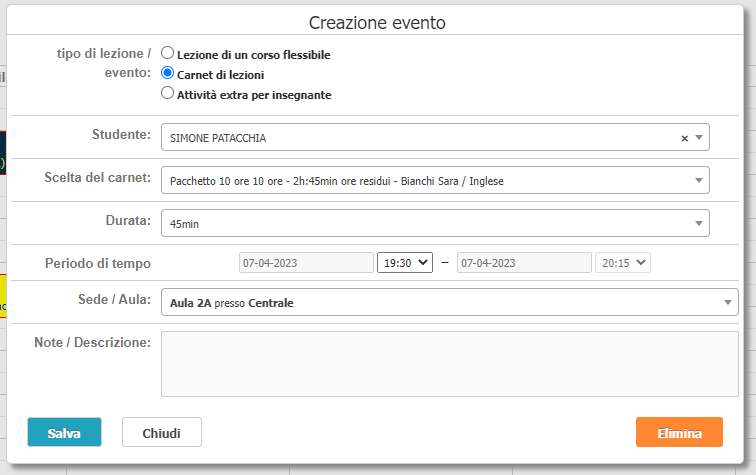 Then fill in the following fields:
Student: Select the Student to whom you want to schedule the lesson.
Choice of Carnet: Select the Carnet from those loaded and associated with the selected Student.
Duration: Indicate one of several possible durations set in the selected Carnet.
Time period: Set the start time of the class.
Notes / Description: Enter a lesson note, if any, visible to the Student.
By clicking on Save the lesson will be created.
To schedule a new lesson from the App the Lecturer must follow these steps: