Attendance Approval System
Both Teachers and Administrators can enter attendance for one or more classes.
Among the various system settings, however, it is possible to enable attendance validation. Through this feature, all attendance entered by teachers must first be validated by Admins.
How then is this function activated?
Go to Configuration → Settings, Course-related settings and then select the "Attendance Approval" table.
By enabling the "Enable approval of teacher-entered attendance" flag, the teacher's entry of attendance will not vary much. As the only difference, the attendance will be placed in review and the teacher will only have to wait for confirmation from the administrators.

Admins will be able to view all attendance that needs approval by navigating to Teaching → Attendance for Approval.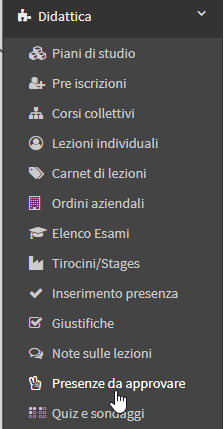 Within this section they will see as an operation the ability to approve attendance.