The hybrid class option makes available the possibility of taking a mixed class, where some students take classes in presence and others online. It is therefore possible to choose manually or automatically, which students can attend physically and which ones should connect remotely, while still participating in the same lesson.
Note: The system will calendar the lesson in two classes: one virtual, one physical.
Note: You must have active Zoom or Teams premium integration at ScuolaSemplice. To request activation write to commercial@blucloud.it.
1. Configuration of Hybrid Classes.
Navigate to Configuration → Settings → Course-related settings → Hybrid classes, check the box: Enable the ability to define hybrid classes:

More settings will be shown:
Manual distribution of students: If checked lar will the Registrar's Office indicate which Students will follow online
Randomly distribute students 50/50 for each class: The distribution of users in the physical classroom and online will be random: 50% in attendance and 50% online.
Use Zoom classrooms if available: If checked use Zoom classrooms for virtual classrooms.
Use Teams classrooms if available: If checked use Teams classrooms for virtual classrooms.
All virtual classrooms are available for hybrid classes: Currently not usable.
Selects the list of available virtual classrooms that the system will randomly assign to classes: Currently not usable.
A virtual classroom will be assigned to each course: Currently not usable.
Finally click on the green button Apply the changes: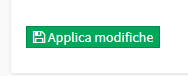 2. Enabling a Course with Hybrid Classes.
After creating the individual collective course or selecting a pre-existing one, navigate to Didactics → Collective Courses, click on edit and flag "This isa hybrid course."


3. Allocation of Students
If you had previously chosen to manually allocate students, dividing them between the in-person and online class, this process can be done through the class schedule. Navigate to. Didactics → Collective Courses → Class Schedule and click on the blue icon "Define the allocation of students to the hybrid class":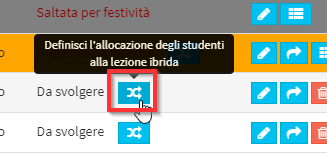 The list of Students present in Aphysical ula, by clicking on the Name of the Student this will be moved to the virtual classroom:


Click on the blue button Apply to finalize the changes:

The lesson in the virtual classroom will be treated as any online lesson, for more information read the following guide.