Customize receipt/enrollment contract (standard)
→  Download this guide in PDF format

After each completed enrollment, the system displays an enrollment summary on the screen that can be printed or emailed to the customer.
This summary can be customized and used as desired such as an enrollment contract or simple receipt of the enrollment order.
By default, the system shows the following summary: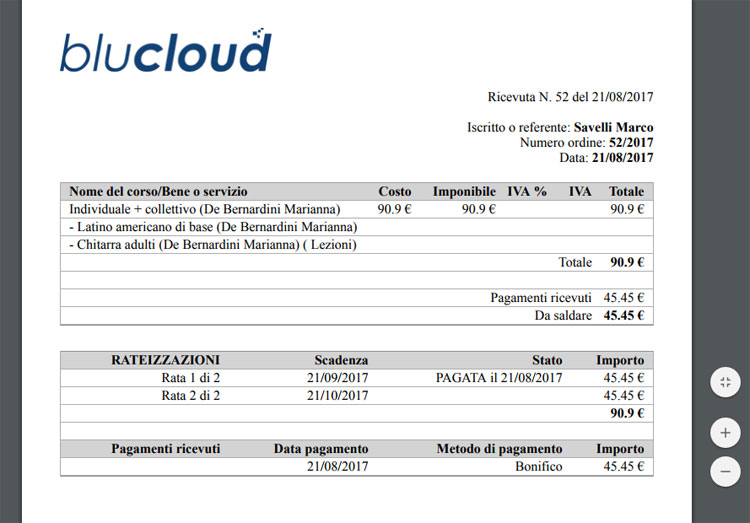 In the summary is present:
The school logo (if present in the system and enabled in the settings)
Receipt number and order date
Data of the subscriber or contact person
Table with enrollment details

the courses (or goods and services) of the order
amounts
payments received and to be settled
installment deadlines
To customize the enrollment receipt click on Configuration → Settings and expand the section Settings related to orders.
Go down to the section Information in receipt and indicate:
Show logo if available (same as login screen).: show school/institution logo in receipt (enabled by default)
Name and address of the institution: enter the header of the school/institution that will be printed under the logo
Terms of Service: section that will be printed on the first page along with the order detail table

Insert before order details: terms of service will be printed before the order detail table
Enter before the order details: terms of service will be printed after of the order detail table
do not insert: conditions of service will not be printed in receipt

School regulations: content will be printed on a separate page from the order detail

Insert into receipt: select the flag to print the regulation in receipt
The three customization fields described above have style editors. It is then possible to assign style to the text (alignment, font, bold, italics, etc...) or copy and paste for example from Word while keeping the style.
The fields of of the Terms of Service and School Regulations can also be used at will to print any other text or document.